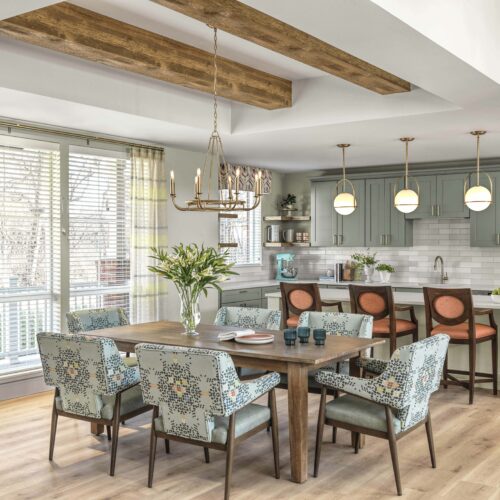 Now Open!
The Michael and Gabriel Communities
Charming new communities filled with endless opportunities.
Cardinal Ritter Senior Services proudly introduces two new state-of-the-art memory support homes designed to give your loved ones – those with Alzheimer's disease and other forms of dementia – a place to receive the best possible quality of life.
These new houses are connected to our assisted living community, Mother of Perpetual Help, and feature two separate communities, each serving 13 residents who require expert care. Both homes provide a cozy and secure environment with open living rooms, a dedicated communal dining room, and a spacious lounge complete with double-sided fireplace and large-screen television where residents can socialize and host family visits.
Explore Our New Memory Care Community
wave-bottom
We offer the following to our residents impacted by memory loss:
Individualized, personal care assistance

Cozy and secure environment with open living rooms, dedicated dining rooms, and activity space

Safety features (wander guards, key-coded main entrances, and secure courtyards)

Supervised and safe outdoor areas

Three healthy (and delicious!) meals each day

Lively community events and social activities

Mass, pastoral care, and spiritual activities

Beautiful common areas for gathering with friends and loved ones

Communal dining in a dedicated dining room

Personal care assistance (bathing, getting dressed, etc.)

Medication management and administration

Physical, speech, and occupational therapies

Specialized dementia care and Alzheimer's care services
wave-top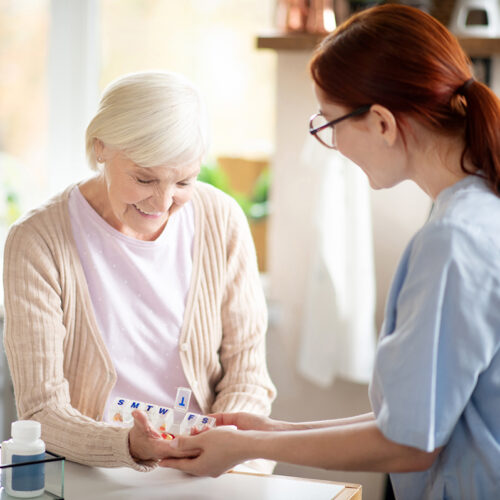 The Total Package
Our specially trained resident care coordinators oversee each resident's unique needs. The dedicated care team, which includes caregivers for each shift, are certified nurse assistants or certified medication technicians who have completed specialized dementia care training.
Our devoted team provides personal care assistance, dispenses medication, and encourages residents to participate in both group and individual activities. Residents are continually assessed so their service plans remain responsive to their changing condition. We stay on top of every single aspect of your loved one's wellness needs.
Schedule a Visit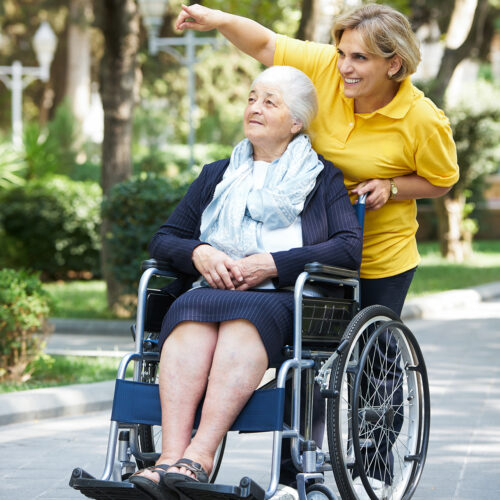 Resident-Centered Care
Memory care goes above and beyond what is traditionally offered in an assisted living or long-term care setting. Our communities offer many services – including housekeeping, laundry, and meal preparation – but memory care's level of assistance with activities of daily living is much greater to ensure each resident's quality of life.
Memory care neighborhoods emphasize an enhanced environment that protects our resident's well-being. They contain more caregivers per individual, as well as inviting programs to keep residents safe and engaged, and our level of care gives family members much-needed peace of mind.
Our caregivers are specially trained which empowers them to professionally interact among those living with brain changes while offering relationships that are authentic, empowering, compassionate, and curious.
Schedule a Visit
wave-bottom
Welcome to the Neighborhood
Here in our memory care communities, we focus on daily structure and enrichment to best serve our residents with all stages of dementia. Your loved ones will enjoy open living areas and eat together family-style in a central dining room where they can select their own meals from our healthy and delicious menu. Each dementia care community also has a secure courtyard so residents can safely connect with nature.
Our residents' lives are purposeful and filled with engaging activities – from singing and dancing to exercise and arts and crafts classes – to encourage daily social interaction. Residents suffering from memory loss are encouraged to continue the daily activities they performed at home, such as reading the newspaper or folding their laundry.
Our continuum of care creates a calming atmosphere where residents thrive based on the many options we offer for wellness. All activities are designed specifically to help the individual with memory loss reconnect with favorite hobbies, interests, and memories. Due to each resident's fluctuating cognitive changes, these activities must be initiated spontaneously to ensure the most successful results.
Gabriel and Michael
Our newest memory care communities
Mother of Perpetual Help
Keep your loved ones close while maintaining
their independence.
Mary, Queen And Mother Center
Dignified and expert care for your loved ones.